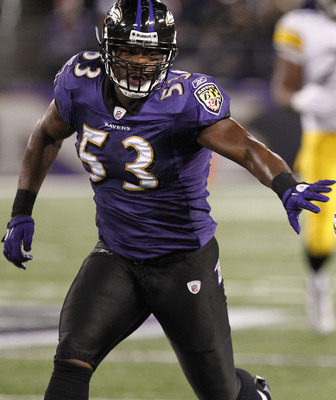 Jameel McClain had a huge day in the Ravens' blowout win against the Raiders. McClain was all over the field in the victory. He ended up with 10 tackles. Here is what he and the rest of the Syracuse Pros did this week:
Baltimore 55 Oakland 20
-Jameel McClain had 10 tackles for the Ravens. Arthur Jones started at defensive end and recorded two tackles.
Indianapolis 27 Jacksonville 10
-Dwight Freeney started for the Colts, but did not record a tackle. Delone Carter had 2 carries for 7 yards.
Denver 36 Carolina 14
-Doug Hogue recorded a tackle on special teams for the Panthers.
New England 37 Buffalo 31
-Steve Gregory returned from injury and recorded 5 tackles for the Patriots. Chandler Jones recorded one tackle.
Tampa Bay 34 San Diego 24
-Mike Williams had 2 catches for 64 yards including a 54-yard catch for the Buccaneers. Curtis Brinkley was active for the Chargers, but did not have a carry.