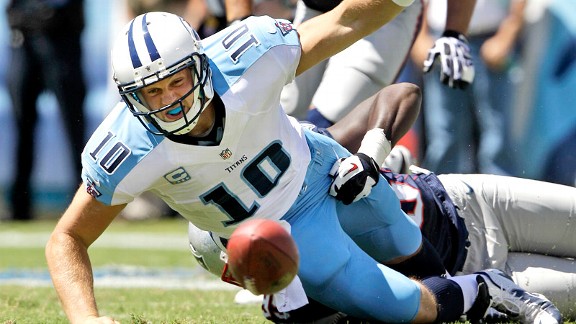 Bill Belichick hoped his rookies would make an impact immediately for his defense. Little did he know they would team up on week 1 and provide a spark. Early in the second quarter Jake Locker dropped back to pass and Chandler Jones was coming right at him. Jones stripped the ball as he was bringing down Locker and fellow rookie Dont'a Hightower scooped up the ball. Hightower then returned the fumble six yards for a touchdown and put the Patriots up 14-3 in a game they eventually won 34-13.
When
Jones was asked about the play
he said, "I did an outside move, beat (Roos) on the outside move and capitalized on what they gave me."
Jones was looking to keep it simple
in his first NFL start. "My thing was to get out there and execute my job, that was my main goal, to go out there and do what I was told to do. That's what I tried to do every play." He ended the game with 5 tackles and 1 sack.
Bill Belichick was happy with his defense making big plays all day and had this to say about Chandler Jones' play.
"We had Chandler Jones with the strip sack and fumble recovery so that was a huge play in the game."
Belichick also had this to offer about his two rookies today.
"I think both players have recently done a good job of that. They're both smart. They've worked hard. And they've both been out there, they've both gotten a lot of reps on the field. So that's always a good way to learn, to experience it, go through it, make a mistake, correct it, and go out there and do it again and get it right. There is a lot to be said for that, and those guys -- really, a lot of our young players -- have had the opportunity to do that. That's been positive."
He ended saying, "Those two guys, they've done a good job there."
Chandler Jones and the Patriots are back in action next Sunday against the Cardinals.